Anne C Vaughn of Cuba Missouri
            Anne C. Vaughn was the daughter of the late Charles Gordon Chapman and his wife, Mary M., nee Adams. Born on March 3, 1892 at Cuba Mo,. and departing this life on Sept 7, 1988, she reached the age of 96 years, six months and four days.  She was reared in the area where she was born.
            In 1914 she was united in holy matrimony to Raymond D. Vaughn. Following their marriage they resided in Cuba.  Later she came to the Leslie area to make her home. She was baptized in the Christian faith and was a faithful member of the Antioch Christian Church for many years.
Preceding in death were a son, William Vaughn; a brother, Joseph Chapman; a sister, Blanche Gielber and a sister-in-law, Mary Chapman. Surviving are two daughters,
Gwendolyn Bauer of Leslie and Marjorie Bleckman and husband Clarence of Leslie; three sons, Raymond C. Vaughn and wife Mildred of Green Valley, Arizona; Roger C.
Vaughn and wife, Mary Frances of Jamestown, Rhode Island, and Douglas G. Vaughn and wife Delma, of Cuba, Mo.; two brothers, Floyd Chapman and wife, Agnes, of Bourbon and Noel Chapman and wife, Martha, of Cuba; a brother-in-law, Marvin Giebler of Gerald; 19 grand-children; 29 great grandchildren and two great, great grand children, other relatives and many friends.
Funeral services were held at the Oltmann Funeral Home in Gerals on Saturday, Sept 10, at with Ronald Follmer officiating. Interment was made in the Delhi Cemetery at Cuba, Mo.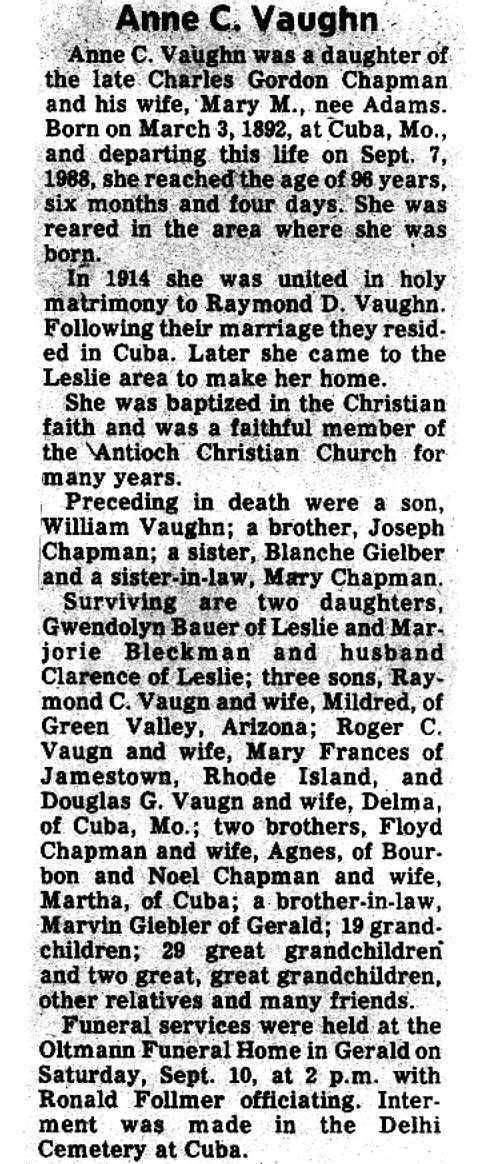 Vaughn Family Lineage:
Ramond D Vaughn son of James Thomas
Vaughn son of George Carroll Vaughn son
of John D Vaughn (b. 1790 Va) son of Obediah Vaughan
Raymond C Vaughn
403 S Vista Del Rio
Green Valley,  AZ  85614-2415
(520) 648-3644
RAYMOND C. VAUGHN Microfilm:  NONE
293 E CALLE HERBOSO
GREEN VALLEY
AZ Submission:  AF91-106338
85614